Not that I'm anti-Apple or anything, but I haven't had Quicktime installed on any computer of mine since...version 4? At the time, probably when Quicktime version 5 was released and Apple wanted more money again to upgrade to v5 Pro, I resolved to banish Quicktime from my hard drive for-evah.
And life was good. By and large, whatever I needed to see was provided in Windows format. Until SXSW 2006 that is. Seems South by Southwest is practically South by Mac West with all the Apple notebooks roaming the halls, but I understand. It's the platform of choice for Creatives.
Anyway, and back to my point, SXSW publishes video excerpts only in Mac-friendly formats: Quicktime and MP4. Well, MP4 is an industry standard isn't it? I assumed Windows Media Player (MWP) would support it, and I waited and waited and...Windows Media Player doesn't support MP4. Doesn't look like it's going to happen anytime soon. I was feeling drawn toward Cupertino.
But I recently read a Barry Dorrans blog article where he complained that WMP should support MP4 because the Zune software player did. He has a point -- several excellent points -- but the big news for me was MP4 Support on something now.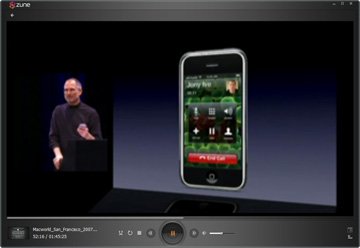 Happy again. The Zune Software installs even if you don't own a Zune (I don't) and supports all the popular iPod video formats, including our MPEG4 variants MP4 and M4V.
Don't Toss Your Windows Media Player
So I was hoping perahps I would just move over from WMP to the Zune player. Nope. Zune, even though it is a WMP variant, is functionally hamstrung in several ways:
Zune cannot open a file from a URL
Zune's equalizer settings are limited to Rock, Pop, Classical, etc.
Zune cannot increase video playback speed
Zune does not provide any SRS playback options
...and so on. Several features I enjoy are missing so it's primarily WMP still, but Zune when I have an MP4 file.
Now if someone can tell me which registry settings I need to change to have WMP share Zune's MP4 codec, that would be even better.