I've been following IE and how it relates to web standards for quite some time now. I haven't been all that vocal over the past two years because, mainly, IE has been moving rapidly and in the right direction. For all the progress made, however, Internet Explorer's detractors - many who are fans of the SCOFF Browsers™ (Safari, Chrome, Opera & Firefox) - are not so much interested in web standards as they are in deriding Microsoft and its products. IE's lack of web standards became a rallying point for them. But times have changed.
Let's stop for a moment and take a look at IE and how it has progressed in just the past five years.
Standards
Web designers five years ago complained about the IE6 Box Model. It was fundamentally at odds with the W3C Spec. They didn't bother to mention that IE6 was in the marketplace before the spec was approved. Still, the browser did not conform and the W3C Standard that was the measure of success. Surprisingly, despite being the overwhelmingly dominant browser on the planet, Microsoft succumbed to our requests, and altered its box model in IE7 and IE8 to the point where IE8 when released was as conforming to the W3C CSS 2.1 spec as any other browser on the market at that time.
The SCOFF Browser crowd, never wanting to give ground to IE, moved onto less fundamental issues: Rounded Corners, CSS3 support, media queries, web fonts, ECMAScript event conformance, HTML5, the list goes on.
Well, we awoke the giant, and Microsoft has a browser in development that is taking IE from worst to first. The IE9 team is going to release a watershed browser next year. Its CSS3 support is stellar, its rendering of border radius is superior to the SCOFF Browsers, handles web fonts, the W3C DOM event model, and excellent HTML5 compliance. And did I mention it's fast?
Update: converted dead links to individual tests.
Measurements
Which brings us to the next conundrum for the anti-IE crowd. It seems that the only benchmarks that matter to them are those where IE does not win. Once IE shows conformance or superiority, the haters decide that a standard that was oh-so-important was never really important after all. Or, a test that was the defacto standard, is now fundamentally flawed and biased.
To Microsoft's credit, it never allowed itself to chase a ghost. It did not chase any arbitrary or specific benchmark. What Microsoft did do was to analyze actual websites, and approach performance in a holistic manner. The IE Team produced charts and showed how different types of sites have very different load time profiles. This discussion was a breath of fresh air and sanity amongst the din of the scoffers.
Performance
Which has lead up to this week's IE9 Preview 7 Release and the chart: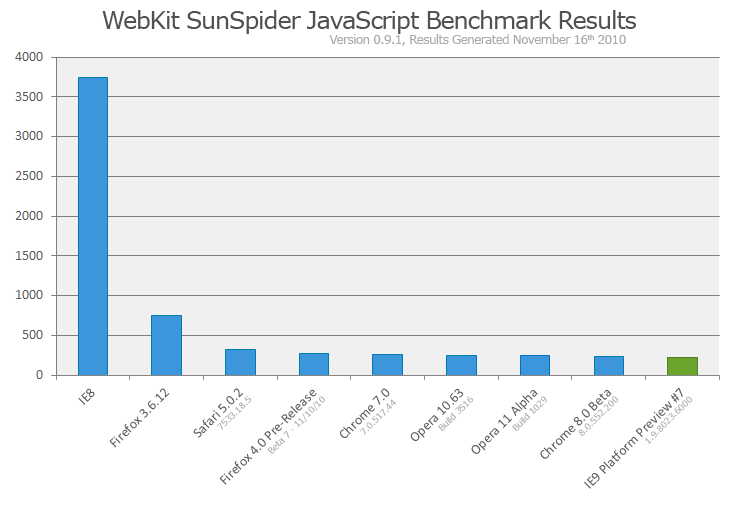 ...that sparked shouts of "Cheat! Cheat!" across the interwebs. The chart shows IE9 Preview 7 beating all SCOFF browsers in the field and in development in Javascript performance. Whether the IE9 Chakra Javascript engine optimizes (specifically or unintentionally) the one portion of the SunSpider test suite is moot. Frankly, I don't think I could even detect the 112 milisecond difference between Safari 5 and IE9. The bigger point to be made is that Chakra's performance is on par with everyone else. The browser Javascript war is over and it is a five-way tie for second. Users are the clear winners because competion in the marketplace produces better products for us all.
So let's move our attention to the SCOFF Browsers and start asking them why they can't keep up with IE9 in these tests? Why can't Safari produce dotted borders on rounded corners? Why is Firefox's DOM Capabilities lagging? When are Opera and Chrome going to improve their CSS3 box shadow support? And why can't anyone touch the IE9 HTML5 performance that makes HTML5 an application platform?
Conclusion
The point here is that Microsoft, in IE9, is bringing to the market a browser that meets or exceeds expectations in nearly every area we have ever brought before them. And where web standards exist, IE9 is adhering to them. The IE9 team is to be commended for their effort, and Microsoft should be commended for waking from its development coma, listening to the web standards advocates, and producing a product that will draw users away from yesteryear's browsers.